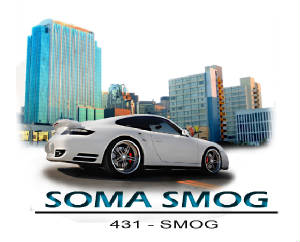 918 Natoma - San Francisco, CA 94103-2618
Phone: (415) 431-SMOG (7664)
SOMA SMOG is pleased to offer a free smogcheck for vehicles that are repaired at this station.
Those repairs can include maintenance items • Factory Scheduled Maintenance • Computer Diagnostics • Brakes
• Tune-ups • Shocks • Struts • Engines • Check Engine Light
• Transmissions • Clutches • Water Pumps • Alternator
• And much more

Remember, when your vehicle is running tight, the mpg will be right!

We are conveniently located in the downtown SOMA District at
918 Natoma, San Francisco between 10th & 11th Streets just below Mission Street
Monday to Friday 9:00 am to 6:00 pm.
Saturday by appointment

Call for an appointment today. 415-431-SMOG (7664)

SOMA SMOG is a family owned and run business.

Hours: 9:00 am - 6:00 PM